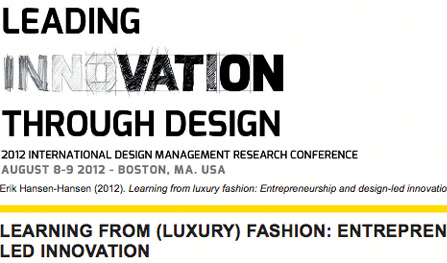 Pdf link to full text in English.
'Learning from (luxury) fashion: Entrepreneurship and design-led innovation' is a conference text by Erik Hansen-Hansen from the Innovation Through Design 2012 International Design Management Research Conference held in Boston on August 8 and 9 2012.
Summary:
Design-led innovation is theorized from a double perspective: A diverse range of design types and strategies used in the luxury fashion business is presented through the prism of entrepreneurship as defined within the tradition of the Austrian School of Economics
It is argued that luxury fashion business serves as a prime example of different design-led innovation methods at work; and further that these can be easily integrated into a specific conception of Design Management.
The text can also be considered a major break with the various socialist ideological inclinations in contemporary design and fashion theory.